In the world of modern dental technology, it seems that the impossible is becoming possible.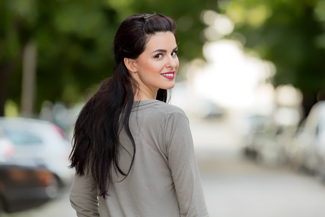 Gaps in teeth can be replaced with a permanent prosthesis, gum disease can be treated with lasers and now, impressions of the shape of the mouth and the alignment of teeth can be taken without using any gooey or sticky impression materials.
Luckily, it is not only functional dental treatments that have benefited from technological updates. Many cosmetic procedures are now simplified with the use of advanced technologies, making the entire process of improving your smile a painless and enjoyable one.
At Graham Tinkler, we are able to offer all of our patients the most up-to-date technologies to help enhance their cosmetic procedures, such as the Invisalign iTero in London, which helps our team take an accurate impression of your teeth in a fast and non-invasive fashion.
But how does Invisalign iTero in London achieve this? How does it improve upon once used cosmetic dental techniques? Read on to find out!
Fast and accurate
While dental moulds and impressions were once the gold standard for taking impressions of the teeth for dentures, bridges, and braces, today scanners are the future.
The Invisalign iTero in London allows our dentists to create an accurate image of your teeth, gums and inner mouth shape, to allow them to make a perfectly matched aligner.
This Invisalign scanner completes this task in less than 60 seconds and does not require you to put anything uncomfortable in your mouth. You can even pause the scan if you need to sneeze or go to the toilet – brilliant!
No impression cast
If you have ever had an impression of your teeth taken before, it is likely that you have had to wear a bulky dental cast.
This experience is usually an awkward one, as these casts are usually very large and require you to hold your mouth open for an extended period of time. Then, there is the aftertaste of the material used in the mould, which may be sticky and can set off sensitive gag reflexes; far from fun! The Invisalign scanner simply requires you to open your mouth for 60 seconds and does not involve any unpleasant tasting clays or bulky moulds being put into your mouth, allowing for a non-invasive and pleasant alternative.
Better predictions
As mentioned earlier, dental technology has moved on in leaps and bounds in recent years.
When you come to Graham Tinkler for treatment with Invisalign, through the use of the Invisalign scanner, we will be able to provide you with a 3-D computer model of your teeth and show you how your teeth will move throughout the course of your Invisalign treatment. This allows you to see how your teeth will move over the coming months and also allows you to mentally plan for each phase of treatment. It also enables our dentists to accurately assess the progress that you make during Invisalign treatment and helps us identify any problems that could arise, promptly.