Invisalign is an innovative teeth-straightening system that evolves every year. Instead of using brackets and wires, Invisalign employs clear aligners which are made of a special plastic material.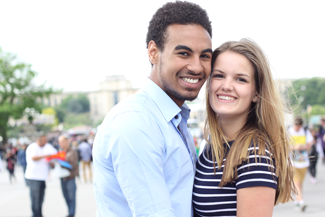 Dr Graham Tinkler offers a wide range of Invisalign treatments to cover every need – from regular Invisalign to Invisalign i7 and Invisalign Teen. If you are interested in the cost of Invisalign in London, you can arrange a complimentary consultation appointment with Dr Tinkler.
Treatment with Invisalign by Dr Graham Tinkler starts at £1995. Our prices are all-inclusive and they are communicated to our patients from the beginning of the treatment. Moreover, we offer 0% interest payment options and a complimentary tooth-whitening session.
Invisalign Full
Invisalign Full starts at £3500 and includes all the preparation required for your treatment (scans, impressions, 3D photographs), the aligners, the 3D virtual treatment plan as well as retainers for keeping your teeth straight after the treatment. This price package also includes refinement and re-contouring and a complimentary teeth-whitening treatment.
Invisalign i7
Invisalign i7 is a lighter treatment that doesn't require as much time as Invisalign Full. For this reason, its cost starts at £1195. Again, this price includes everything included in Invisalign Full. However, Invisalign i7 can include up to 14 weeks' worth of aligners and fewer refinements.
Invisalign Teen
Invisalign Teen is designed for teenagers or young adults. Starting at £3500, this price package includes an unlimited number of aligners (just like Invisalign Full) as well as everything else included in our Invisalign packages. Invisalign Teen aligners are specially designed for teenagers and refinements are necessary to compensate for natural growth.
Why the cost of Invisalign in London is worth it
Some people think that the cost of Invisalign in London is not viable. However, we think that it is a pretty good deal given everything included. At the end of the day, Invisalign isn't more expensive than regular braces and knowing what you will pay from the beginning without any additions or unpleasant surprises is always is always best.
To learn more about the cost of Invisalign in London and find out more about our Invisalign treatments, call us today.