We all know that good care is essential for healthy teeth, but if you have crooked, overcrowded or widely spaced teeth then you will know how it affects your looks and can make you feel embarrassed about smiling. Many adults would love to enhance their looks, but are not keen to have corrective treatment as they associate braces with having a mouth full of metal for months on end. Social and professional situations can feel very difficult if you are worrying about whether people can see that you are wearing braces. London dentist Graham Tinkler, knows how important the appearance of your teeth is and can offer a solution.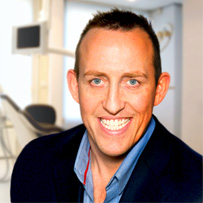 Why choose Graham Tinkler?
Your London dentist, Graham Tinkler is proud to offer advanced, discreet teeth straightening using a technique called Invisalign. He is one of the leading practitioners in the UK, as well as being one of the leading BUPA Invisalign dentists. He has proved himself as a dentist who is committed to treating complex cases with skill, reliability and a flair for creating a great smile using the latest technologies. So, even if you have been refused Invisalign treatment at other practices, Graham Tinkler may be able to help.
What should I expect from my dentist, Graham Tinkler in London?
Your initial consultation is complimentary, so that you have the opportunity to discuss your case. You will be provided with a fixed, all-inclusive cost for your individualised treatment so you know exactly what to expect and you can choose to spread the costs using 0% finance. To ensure that you are totally satisfied with the result, teeth refinement, whitening and official Invisalign Vivera retainers are included as standard, as well as recontouring the edges of the teeth to help with proportion and symmetry. When you commence treatment, you will have impressions taken as well as x-rays and photographs. A series of aligners are made to fit your mouth precisely, and you wear new ones every two weeks to guide your teeth gently into their correct position.
You can be sure that treatment from your dentist, Graham Tinkler in London, will be carried of professionally and effectively to give you the results that you deserve.