The creation of customised Invisalign aligners requires high-quality impressions of your teeth and your bite. In the past, there were only a few ways to get that information, and the most effective was with traditional dental impressions.
Dr Graham Tinkler is proud to introduce Invisalign Itero in London, an innovative, safe, effective, intraoral scanner that performs a thorough, digital dental scan instead of traditional impressions. Patients will no longer need to sit with a mouthful of sticky goo just to find that the impression is not accurate and they have to do it again.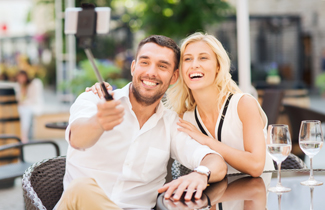 Not only are digital impressions more comfortable, they are also very precise. The Itero scanner has the ability to take a very detailed impression of your teeth and gums, and, once the scan is complete, Dr Tinkler will have a 3D simulation of your mouth that can be used to create high-quality, customised Invisalign clear aligners.
More than just a picture
Scanning your teeth with Invisalign Itero in London is very straightforward. Dr Tinkler will place the mobile scanner gently against your teeth and take a series of pictures, usually one tooth at a time, from different angles so that he covers the entire surface of the interior of your mouth.
The dental scans developed by this technology aren't just pictures. They are three-dimensional models based on complex algorithms. Using the scans, Dr Tinkler can predict how your teeth will move over time with various forces applied to them.
The iTero dental scan is also very quick and easy to use compared to traditional dental impressions. As a result, your Invisalign treatment could begin within a week compared to other conventional methods which can take up to 3-4 weeks or more.
Moreover, the Itero scanner allows better communication with the patients about their treatment plan and is much easier on patients, especially those with strong gag reflexes.
Contact us
The Itero scanner in London has already transformed the way Dr Tinkler uses Invisalign to straighten your teeth. If you have any questions about the scanner or want to book an appointment with Dr Tinkler, please give us a call.