If you are looking for a fabulous smile, isn't it time you discovered Invisalign? The Invisalign cost is less than you would imagine and the smile it helps produce is priceless! Dr Graham Tinkler is a specialist in the provision of Invisalign, the revolutionary and discreet teeth alignment system favoured by many celebrities around the world.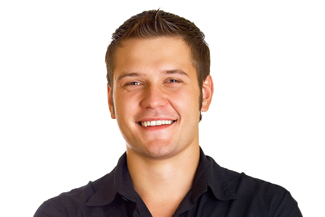 So what is Invisalign and what will Invisalign cost in London?
Invisalign is indeed a revolutionary advancement in orthodontics, creating a naturally beautiful and confident smile. Invisalign is a highly discreet system which we use, that will gently realign and reposition your teeth to create that wonderful healthy smile easily and naturally. It is without doubt the most technologically advanced system around. Utilising contemporary imaging and computer scanning, thermo plastic trays are made which are individually created to each patient's alignment specifications. The aligners gently manipulate the teeth into their desired position. Each of the series of aligners is bespoke and is made following 3D imaging of the teeth. As progress is made and your teeth begin to align, a new aligner is used every two weeks, with the whole journey taking roughly between 9 to15 months to complete. There are fewer visits to the dentist for adjustments as, unlike regular braces, they have no wires to adjust and they are much more manageable generally, as you can remove them to eat and brush when required. There are no sharp corners to them as they are moulded exactly to your teeth, allowing you to confidently go about your business as you would normally. Meanwhile the Invisalign system is discreetly playing its part in delivering you that fabulous smile you have always wanted and we are proud at London Clear Braces with Dr Graham Tinkler to be able to help you do this.
Why Dr Graham Tinkler?
Dr Tinkler practises out of the Bupa Dental Centre in central London. He is a leading specialist in Invisalign and one of the leading consultant dentists offering Invisalign in the UK. His reputation as a specialist in this field you will find speaks for itself.
Recently Dr Tinkler was proud to be the consultant on a patient ranked at number four million to receive the Invisalign system. He has personally improved and overseen the creation of over 2,000 beautiful smiles for his patients with the use of Invisalign. He initially offers a free consultation to assess the suitability of Invisalign for his patients and finds it is suitable for 9 out of 10 of the patients he sees. On initial consultation if suitability for Invisalign is confirmed Dr Tinkler takes an exact mould of your teeth which is then fed into a computer. From this a highly accurate computer generated 3D virtual reality model of your teeth is generated and from this template Dr Tinkler uses his vast experience to design a bespoke alignment plan for you. Invisalign is a far more natural and easy way to achieve that perfect smile than say veneers, which can affect the surface of your teeth. The Invisalign cost in London will reflect the type of treatment you will require, but the smile you will achieve will indeed be priceless. So if you are after a naturally beautiful smile why not get in touch with us today and see what we can do for you.