Despite common misconception, Invisalign is just one provider of clear aligners, and it is extremely successful within the united kingdom, as they are the largest provider of clear aligners. Clear aligners work in a similar way to retainers (a form of orthodontic aftercare). Here at London Clear Braces, we will take an initial x-ray and mould of your mouth, to ensure you are a suitable candidate for this form of orthodontic treatment. Once your initial consultation is complete, your surgery will send off the moulds and your clear aligner provider will send back your first set of aligners! Your clear aligners will need to be updated every several weeks, in order to keep up with the change of alignment within the mouth.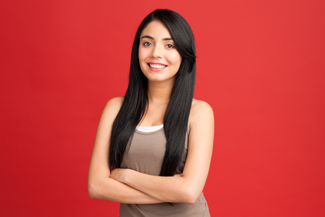 An individual may justify the Invisalign cost In London due to its high level of aesthetic appearance. Older individuals may not wish to undergo traditional orthodontics for several reasons one of which being low self esteem. Older individuals within professional careers may believe traditional and 'obvious' orthodontics may hinder their career prospects, and therefore may opt for discreet clear aligners. Younger teens and adolescents may also decide to undergo clear aligners in order to increase their self-confidence. Clear aligners are virtually invisible and can have a shorter treatment time, especially for patients who have already undergone previous orthodontic work.
Are clear aligners more expensive than other forms of orthodontics?
As a general rule, the cost of clear aligners within the United Kingdom are comparable to traditional metal braces. The Invisalign cost in London can vary greatly from practice to practice, as well as the individuals dental case (in terms of level of severity) however, some practices within London may offer monthly, or interest free finance plans which can be ideal for patients who wish to avoid hefty dental costs. Monthly plans ensure that these discrete and modern forms of orthodontic treatments are available to a wider range of audiences. The typical cost of Invisalign can start from around £1995, the price is determined by the length of the treatment as well as the level of imperfection of the teeth. There are a variety of types of Invisalign including an Invisalign teen treatment. Patients nervous about the cost of clear aligners may be able to find a surgery that offers a free consultation to decipher whether they are suitable for them.
Are clear aligners more expensive than traditional metal orthodontics?
Clear aligners are typically more pricey than traditional metal braces and other forms or traditional orthodontics, this is due to their convenience (as they are removable) as well as their highly attractive and subtle appearance, making them desirable to the majority of patients.
Can I get clear aligners on the National Health Service?
It is extremely rare that adults are offered orthodontic treatment on the National Health Service, as this is usually only available for patients under the age of eighteen. Young teens and adolescents under the age of eighteen usually receive 'train track braces' when they are in need of orthodontics, and rarely receive clear aligners (as they are viewed as cosmetic dentistry).